ADR Dernières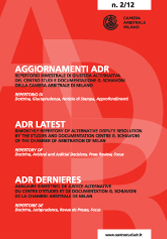 Bimonthly periodical of alternative justice
ADR Updates is a bimestral bibliographical bulletin designed to facilitate user access to multiple and diverse resources that make up the library of the Centre.
Moreover, coming from the largest national bibliographic fund specifically dedicated to the techniques of ADR, the newsletter is a significant upgrading tool and an incentive to an in -depth analysis of the current issues of the alternative justice in Italy and abroad.
Updates ADR is available to the subscribers of the library of the Centre or it may be required with a specific subscription.
Browse the number 2/ 2012 of ADR Updates.