III CAM Annual Conference
Italy as the seat of your arbitration?
Get a tip to make it work
Milan, 16 November 2012 h.9.00-17.00
Palazzo Turati, via Meravigli 9/b

This year, the Milan Chamber of Arbitration Annual Conference will focus on Italy as a seat of arbitration.
This one day conference will give an exclusive opportunity to go deep into the topic at hand and to acquire insights and advices to make the seat's choice workable. The event will be structured into three sessions which will be followed each by a lively debate with the main experts in the field.
Among the panelists: Jan-Michael Ahrens, John Beechey, Massimo Benedettelli, Piero Bernardini, Stavros Brekoulakis, Bernard Corboz, Antonio Crivellaro, Antonias Dimolitsa, Ugo Draetta, Dominique Hascher, Charles Kaplan, Stefan Kroell, Baldo Marescotti, Alexis Mourre, Paolo Michele Patocchi.
The working language of the event will be English with simultaneous translation to Italian.
See the final program.
Registration fee €387 (VAT included)
Reduced fee €340 (VAT included) only for:
• Subscribers of the Studies and Documentation Centre G. Schiavoni of the Milan Chamber of Arbitration
• AIGI and ALGIUSMI members
REDUCED FEE ALSO FOR ALL FIRMS THAT ENROLL AT LEAST 4 PROFESSIONALS
For more info on the way of payment, hotels at preferential rates and ways to reach the location of the event, see the information note.
Upon request participants will receive a certificate of participation.
L'Ordine degli Avvocati di Milano ha riconosciuto 6 crediti formativi.
L'Ordine dei Dottori Commercialisti ed Esperti Contabili di Milano ha riconosciuto 7 CFP.
Watch the video: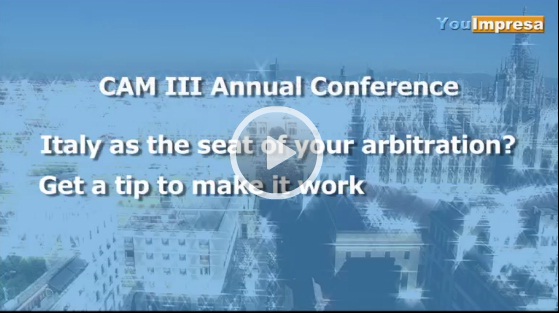 JOIN US FOR THE SOCIAL EVENT!
On 15 November all the participants and accompanying persons are invited to join us for a "Milanese night out" from 7.30 pm @ Just Cavalli Café (light dinner buffet+cocktail). Click on "Iscriviti" and pick "social event" in order to subscribe.
Info:
Lucia Santucci
annual.conference@mi.camcom.it
Tel: +39 02 8515.4557