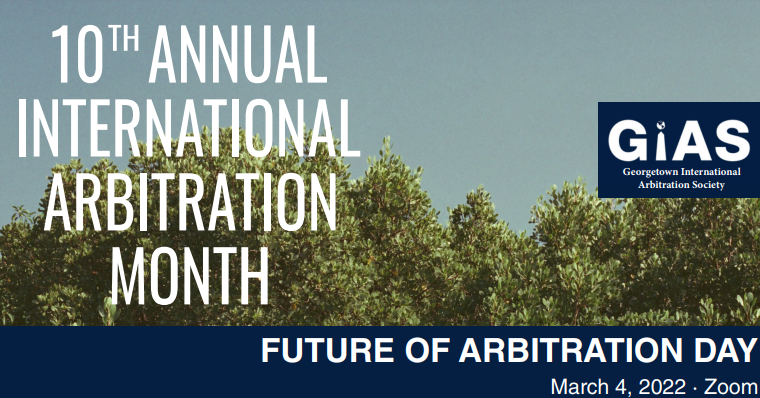 The Milan Chamber of Arbitration is proud to be one of the supporting organizations of the 10th Annual Georgetown International Arbitration Month- the Future of Arbitration Day.
Panel 1: Is the Future of Arbitration Greener?
Panelists: Annette Magnusson (Climate Change Counsel), Ryan Hicks (Freshfields Bruckhaus Deringer) and Cherine Foty (Covington & Burling LLP)
Moderator: Patrick McManus, GIAS Treasurer
Date: 4 March 2022 at 2:00p.m.

Panel 2: Institutional Arbitration and the Future
Participating Panelists: Luis Martinez (International Centre for Dispute Resolution (ICDR), Ziva Filipic (ICC Arbitration), Kevin Nash (Singapore International Arbitration Centre) and Eric Ng (HKIAC)
Moderator: Fredrik Lindmark, GIAS Arbitration Month Co-Organizer
Date: 4 March 2022 at 4:00p.m.

Register for either panel or both panels at: https://bit.ly/33NnkMj

The first panel will discuss the environmental impact of international arbitration, how the carbon footprint of arbitration can be reduced and other ways in which arbitration can become greener. Climate change is one of the biggest challenges of our time and we expect this discussion to be relevant and riveting. The second panel will focus on the challenges and opportunities that arbitral institutions face in the coming years, and will discuss the future of technological advancements in arbitration, including lessons learned from COVID-19, the relevance of adapting to changing political climate through economic sanctions, GDPR, and other compliance regimes and various other related topics.